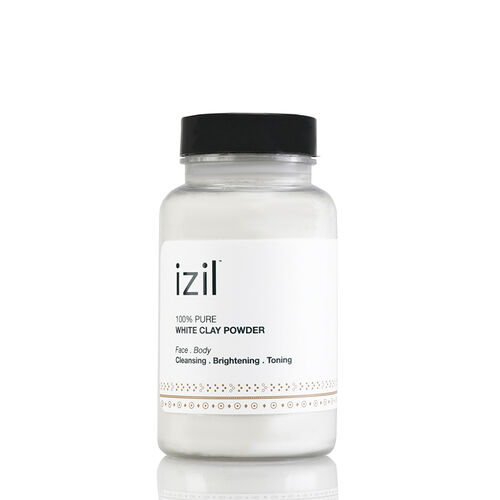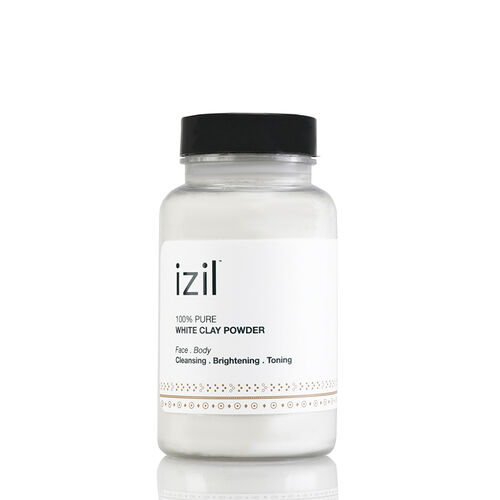 White Clay
Cleanses & Brightens
What we believe the most
What it is: Remove skin impurities with nature's purity. Our much loved White Clay is a natural exfoliate that removes dead skin cells & impurities, while giving your skin a beautiful even tone.
How it works: Give your skin a quick makeover with our efficient and all-natural White Clay. It does wonders as a natural exfoliant and its mineral rich formula draws out impurities and absorbs excess oil. It detoxes and cleans your pores, and it's so versatile it could even work as a mild shampoo. It's what you call an a-to-z solution for head-to-toe.
Who it's for: It's ideal for every skin type.
Good to know: It's a wholly natural product. Works best when mixed with Izil's Pure Damask Rose Water.
the benefits are :
Absorb Sebum

Detoxify Skin

Unclog Pores
Our White Clay is
Cruelty Free

Moroccan Recipes

Natural Ingredients

Organic Farming

Synthetic Fragrance Free

Vegan
Ingredients

White Clay
White clay, also known as kaolin clay, helps absorb excess oil and impurities from the skin, making it ideal for use in deep cleansing and detoxifying skincare products. It also has a gentle exfoliating effect that can help improve skin texture, tones and firms the skin.
How to Use
Directions: Add 1oz of White Clay powder to 3 Tbsps. of Izil's Pure Damask Rose Water Toner, apply to skin and remove with warm water after 10-12mins.
Products related to this item