Promo -

15

%
Out of Stock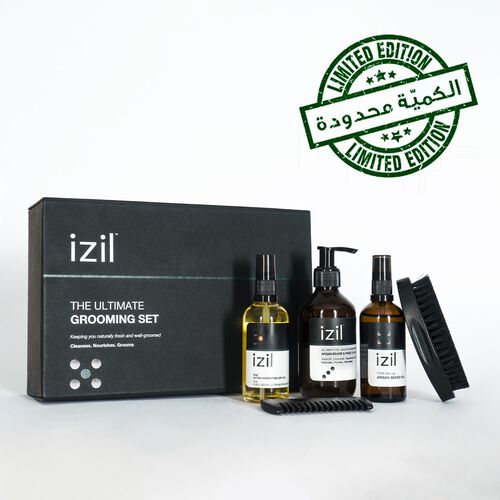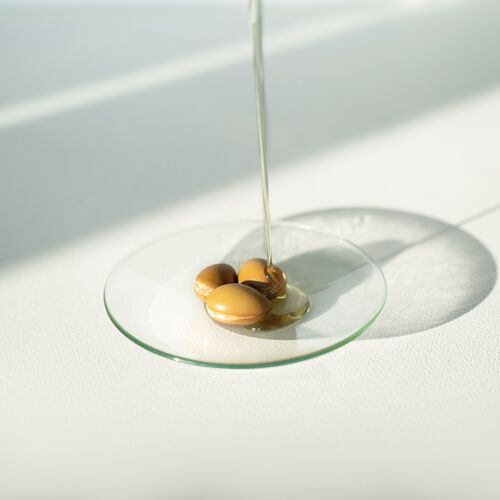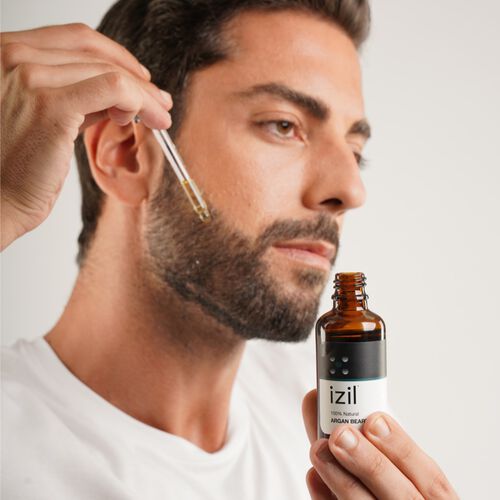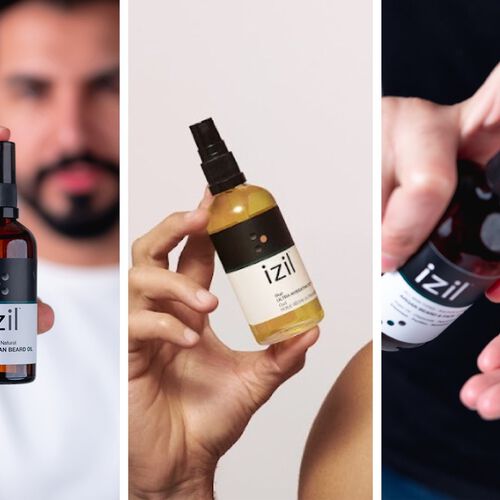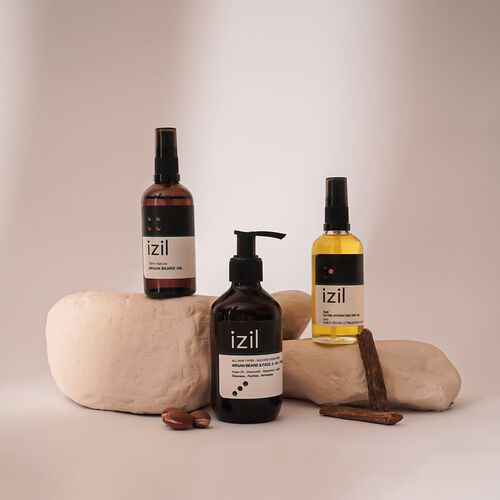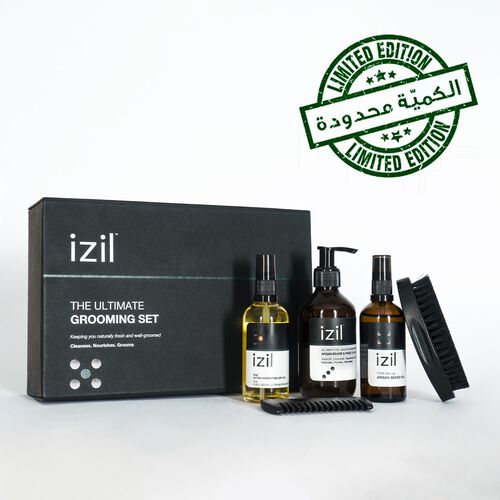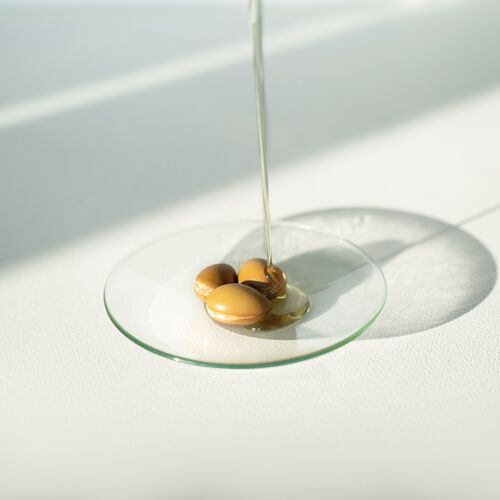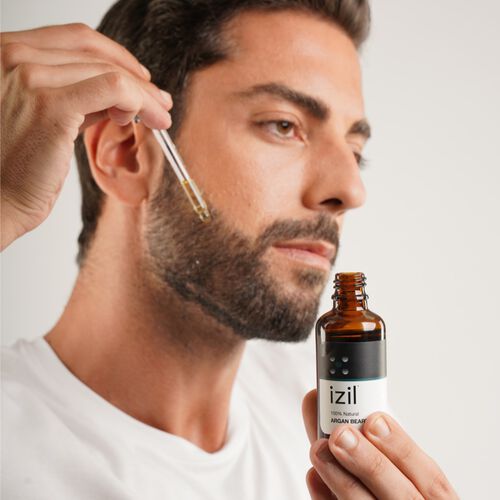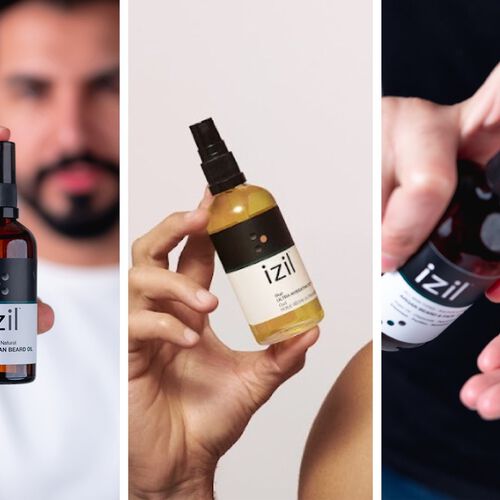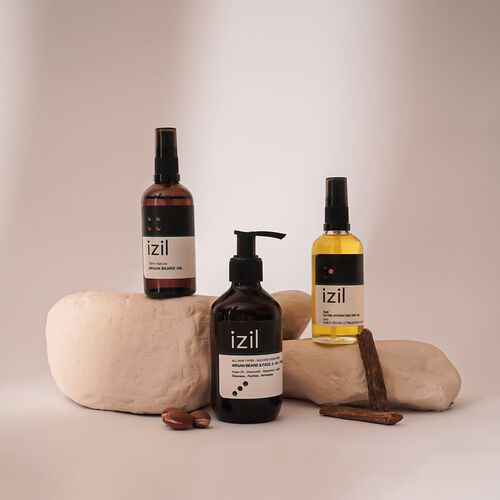 Ultimate Grooming & Hydrating Set
Grooms & Nourishes
Price reduced from

AED 635.00

to
AED 539.75
What we believe the most
What is it : Powered by Argan Oil, The Ultimate Grooming & Hydrating Set is a natural 2-step daily routine to keep you looking, smelling and feeling your very best.
How it works : Step 1: Wake your skin with energising laurel and refreshing peppermint. The Argan Beard & Face Wash supports a fresh face and beard with the infusion of argan and soothing chamomile that results in deep cleansing action that leaves skin supple, not stripped.
Step 2: Restore your beard's shine with the Argan Beard Oil; a non-greasy, fast-absorbing oil blend of Argan, Blackseed, Jojaba, and Laurel oils that soften, and nourish facial hair whilst delivering a refreshing, masculine fragrance to leave you looking and feeling your very best.
Step 3: Complete the ritual and surround your skin with the woody aroma of the Oud Dry Oil. A blend of antioxidant-rich oils to hydrate and condition skin by locking in moisture and providing deep enrichment with a non-greasy, non-sticky feel. A perfect body oil for reducing dryness and flakiness, that helps to repair skin barrier and improve overall appearance. Enjoy the refreshing Oud scent for added tranquillity.
Wooden comb & beard brush: This Eco-friendly duo works on any type of beard (long, short, thick, thin, soft, firm, coarse or tangled) and spreads the natural essential oils evenly over the hair for maximum nourishment.
The beard brush and comb massage and clean your beard hair to give you a smooth, shiny finish.
Black pouch: This premium fabric pouch is a perfect travel partner to hold all your grooming essentials handy when you are on-the-go.
Who it's for : This product has been designed for all skin & beard types.
Good to know : It is 100% free of GMO, animal cruelty, alcohol, artificial colours, and synthetic ingredients.
the benefits are :
Cleanse Skin & Beard

Increase Hair Shine

Strengthen Hair Follicles
Our Ultimate Grooming & Hydrating Set is
Cruelty Free

Moroccan Recipes

Natural Ingredients

Organic Farming

Vegan
Ingredients

100% Pure Argan Oil
Argan oil rich in Vit. E, fatty acids and antioxidants, renowned for its exceptional skincare benefits, is commonly referred to as ""liquid gold"" due to its remarkable ability to nourish and condition the skin effectively.

Chamomile
Chamomile's anti-inflammatory, antibacterial, and antioxidant properties soothe and hydrate the skin, treat skin conditions, reduce redness, and promote relaxation.

Coq10
Coenzyme Q10 also known as ubiquinone, supports elastin fiber and collagen balance. It helps in wrinkle depth reduction while maintaining skin's elasticity and structure.

Hyaluronic Acid
Hyaluronic acid attracts and retains moisture in the skin, promoting hydration and plumpness which improves the appearance of fine lines and wrinkles, soothe and reduce redness, and support skin barrier function.

Prickly Pear Oil
Prickly pear oil is 88% healthy fatty acids that improves skin elasticity and collagen balance, helps with fine lines and wrinkles. It also enhances the skin's natural defense system against internal and external aggressions.
1.Argan Beard & Face 2 - In - 1 Wash
Aqua, Propanediol*, Coco-Glucoside*, Cocamidopropyl Betaine*, Citric Acid*, Sachharide Isomerate*, Xanthan Gum*, Natural Perfume*, Argania Spinosa [Argan*] Seed Oil, Mentha Piperita [Peppermint*] Ess. Oil, Laurus nobilis [Laurel*] Ess. Oil, Chamomilla Recutita [Chamomile*] Flower Extract, Hamamelis Virginiana [Witch Hazel*] Extract, Vitis Vinifera [Grape*] Seed Extract, Raphanus Sativus [Radish*] Root Extract, Pullulan*, Lecithin*,  Caprylyl/Capryl Glucoside*, Sodium Citrate*, Glycerin*, Sodium Cocoyl Glutamate*, Sodium Phytate*,  Glyceryl Caprylate*, Polyglyceryl-6 Oleate*, Sclerotium Gum*, Sodium Surfactin*, Benzyl Alcohol, Dehydroacetic Acid, Citral*, Geraniol*, Linalool*, Citronellol*, Limonene*.
2.Argan Beard OIL 100ML Prunus Armeniaca [Apricot*] Seed oil, Argania Spinosa [Argan*] Seed Oil, Prunus Amygdalus [Sweet Almond*] Dulcis Oil, Simmondsia Chinensis [Jojoba*] Seed Oil, Ricinus Communis [Castor*] Oil, Nigella Sativa [Blackseed*] Seed Oil, Lavandula Officinalis [Lavender*] Oil, Laurus Nobilis Leaf [Laurel*] Essential Oil, Cinnamomum Zeylanicum [Cinnamon*] Bark Oil, Mentha piperita [Peppermint*] Oil, Tocopherol, Benzyl benzoate**, Cinnamal**, Cinnamyl alcohol**, Coumarin**, Eugenol**, Limonene**, Linalool**
*Naturally derived / Organic Products
** Naturally present in Essential Oils
How to Use
Step 1
Argan Beard & Face 2 - In - 1 Wash
Mix 2 or 3 drops with water in your palm, then gently massage the face & beard. Rinse thoroughly & pat dry your face.
Step 2
Argan Beard oil
Drop the desired amount of oil into palm. Apply evenly to facial hair and skin.
Step 3
Wooden comb & brush
Comb through with the wooden brush or comb to distribute oil evenly and create a smooth, shiny effect. Repeat this routine twice a day for best results.
Step 4
Oud Ultra hydrating dry oil
Spray a thin layer immediately after showering and lightly massage in an upward, circular motion.