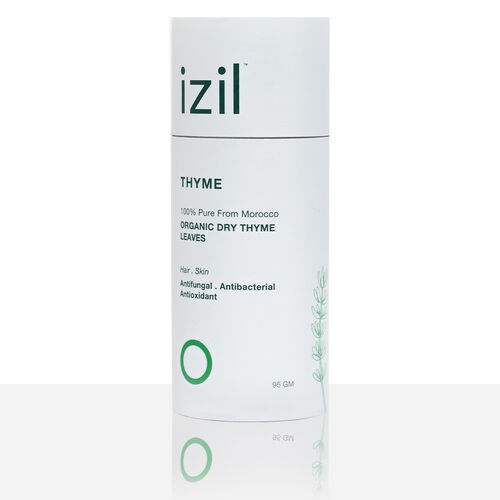 Thyme - Herbs
Antifungal & Antioxidant
What we believe the most
High in antioxidants, Thyme has a variety of anti-fungal and anti-bacterial properties to help protect skin and hair.
Our Thyme - Herbs is
Cruelty Free

Moroccan Recipes

Organic Farming

Vegan

Natural Ingredients
Ingredients

Thyme
Thyme is a nutrient-dense herb rich in vitamins and minerals such as Vit C & A, iron, and calcium. It possesses powerful antibacterial and antifungal properties that can effectively combat acne and other skin infections, reduce inflammation. It promotes hair growth by boosting blood flow to the scalp and stimulating hair follicles.

Moroccan Organic Dried Thyme
How to Use
Rosemary & Thyme Hair Tea Wash
Add 4 teaspoons each of dried thyme and rosemary to 1L of water and bring to a boil.
-Allow to steep until cool.
-Filter the herbs and use the herb infused water to rinse your hair and scalp.
Do not wash out.
Pro Tip: For extra scalp stimulation, massage scalp while rinsing.