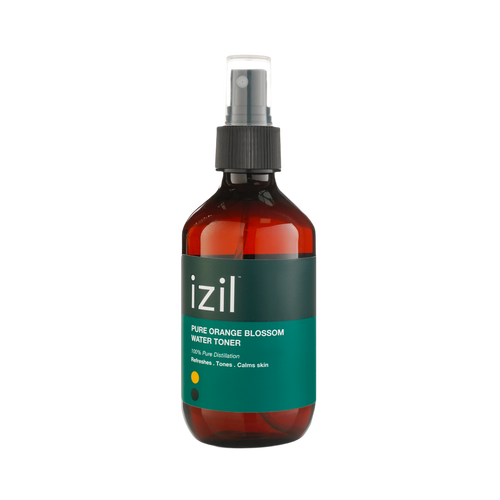 Orange Blossom Mist
Balances Ph Levels & Hydrates
What we believe the most
What it is: Feel the soft citrusy caress of nature with our exquisite Orange Blossom Mist, which refreshes the skin with a gentle scent.
How it works: Feel touched by nature's loving and passionate care, which gave birth to our Orange Blossom Mist, a natural toner. It is distilled specially from the flower of the bitter orange tree, which is so ubiquitious around the Mediterranean. It protects skin against premature ageing, softens it, soothes redness and calms the nerves. You can also use wonder toner to condition and shine your hair. The moment you open the bottle, a delicately citrusy and floral fragrance wafts through the air and refreshes the skin. It's the perfect non-alcoholic scent for summer.
Who it's for: It has been formulated for every skin type.
Good to know: Use it throughout the day to keep your skin refreshed. Also, you can spray a little on your pillow to help you sleep peacefully at night. It's a nature-based product so it's safe.
the benefits are :
Hydrate Skin

Add Beautiful Scent

Refresh Skin
Our Orange Blossom Mist is
Cruelty Free

Moroccan Recipes

Organic Farming

Synthetic Fragrance Free

Vegan

Natural Ingredients
Ingredients

Orange Blossom
Orange blossom boasts a wealth of nutritional benefits, thanks to its high levels of antioxidants and vitamins, such as vitamin C. This natural wonder also offers impressive benefits for the skin, with its anti-inflammatory and antibacterial properties helping to combat acne, soothe irritated skin, and improve overall tone and texture.

Citrus Aurantium var Amara [Orange Blossom*] Flower water
How to Use
Spray over clean, dry skin to tone or use throughout the day to refresh the skin.
Good Tips
Spray a little bit on your pillow to help you drift off to a pleasant dream land.
,ignore_datafeedwatch=No