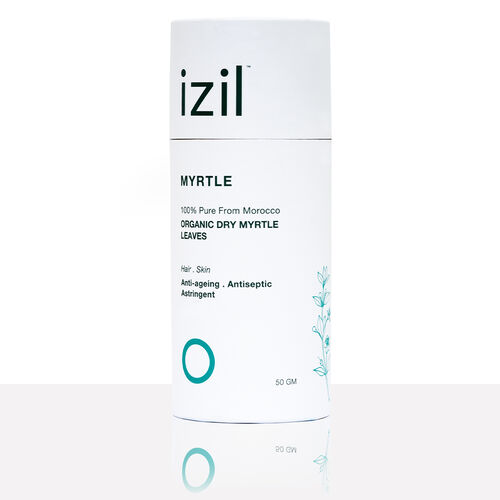 Myrtle Leaves - Herbs
Antiaging & Astringent
What we believe the most
Myrtle is Renowned for its astringent and antiseptic properties. Due to its high antioxidant it can be used to remove sebum, strengthen capillaries, and heal damage.
Our Myrtle Leaves - Herbs is
Cruelty Free

Moroccan Recipes

Organic Farming

Vegan

Natural Ingredients
Ingredients

Myrtle
Myrtle is an aromatic plant with antibacterial, antifungal, and astringent properties that can help reduce acne, prevent infection, and tone the skin. It also helps to strengthen the hair, prevent hair loss, and promote healthy hair growth.

Moroccan Organic Dried Myrtle
How to Use
SAFETY PRECAUTIONS: Do not ingest. If you experience inflammation, itching, or burning, discontinue use and consult your doctor.
Children, pregnant and breast-feeding women should not use herbs as treatment unless under the supervision of a trained
practitioner.

STORAGE PRECAUTIONS: Store in a cool dry place, away from direct sunlight.