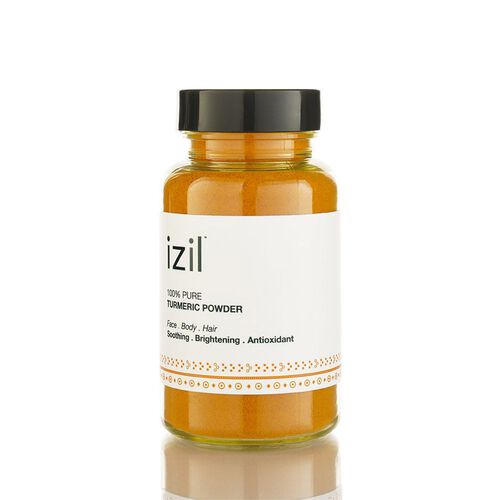 Curcuma Powder
Brightens & Soothes
What we believe the most
What it is: Give your skin a beautiful glow with our 100% pure Turmeric Powder. Made from a wonder herb, it protects your skin and infuses it with antioxidants, leaving your skin looking beautifully healthy.
How it works: Over the passage of time, man has constantly delved deep into nature's secrets. One such excursion revealed to the world the renowned healing properties of turmeric., which also offers immense cosmetic benefits. Turmeric is a rich source of antioxidants and anti-inflammatory elements, which combine to give your skin a special glow and luster. It is extremely effective in fighting acne, reducing dark circles, protecting against ageing and damage caused by the sun, reducing the appearance of stretch marks, and soothing dry skin. It's one yellow powder, but aren't the benefits countless!
Who it's for: It works best when you mix it warm raw honey and a teaspoon of milk or yogurt, which creates a mask. Make sure you wash your face and tie your hair back before you apply it. Don't forget to put on your gloves if you don't want your fingers stained yellow. Then, let it rest for about 20 to 30 minutes as it dries and hardens. You can gently rinse it off with warm water.
Good to know: This is a 100% natural product. It's safe and effective, as proven over hundreds of years!
the benefits are :
Anti Inflammatory

Fight Acne

Reduce Dark Spots
Our Curcuma Powder is
Cruelty Free

Moroccan Recipes

Natural Ingredients

Organic Farming

Synthetic Fragrance Free

Vegan
Ingredients
Curcuma
Curcuma, also called turmeric, has potent anti-inflammatory, antimicrobial, and antioxidant properties that can enhance skin health. It can soothe dry and irritated skin, reduce inflammation and redness, fight acne-causing bacteria, lighten dark spots, and improve skin elasticity.

100% Pure Curcuma (Turmeric) Curcuma longa (Turmeric)
How to Use
Heat up a teaspoon of raw honey in the microwave for 10 to 15 seconds.
In a dish, combine the honey with a teaspoon of turmeric and a teaspoon of milk or Greek yogurt.
Wash your face, pull your hair back, and apply the mask to your face using your fingers or a spoon.
If you don't want your fingers stained yellow, wear gloves when applying the mask.
Relax for 20 to 30 minutes as you let the mask dry and harden.
Rinse the mask off with warm water, moving your fingers in tiny circles to take advantage of turmeric's exfoliating ability.
If the turmeric stains your face, simply wipe it off with a facial toner.
Products related to this item