Blogs
JUL 10, 2023
Mirror, Mirror On The Wall, How Can I Get The Shiniest Hair Of Them All? -
Reveal Your Hair's Hidden Brilliance
You're getting ready to go to work or better yet, a night on the town. You have your music blaring in the background, you're using your hairbrush as a mic, singing along to Miley Cyrus (I can buy myself FLOWERSSSSSS) and you're trying on looks to go with your mood. You suddenly begin nervously tapping your perfectly manicured nails on the counter, as you stare into the mirror with bewilderment at your frizzy-looking hair. You look amazing but the look of your hair is quickly dampening your spirits. Fear not, because Izil Beauty has the ultimate secret weapon to tame frizz and leave you with shiny, bouncy hair. Introducing the Hair Shine Serum that will take your hair from drab to fab in a jiffy, it's literally the only hair serum you'll want front and center on your dresser.
In this blog, you'll discover why the Hair Shine Serum should become an important aspect of your haircare routine:
What is a hair serum & how does it help?
Hair serum is usually designed to shield the outside of your hair strands and protect your hair cuticle. It is your ultimate ally in the battle against frizz, dullness, and weak hair. So, if you find yourself constantly wrestling with unruly strands and relying on heat tools, it's time to introduce this game-changing product into your hair care routine. This hair shine serum not only adds brilliant shine to your hair but also imparts smoothness, hydration, and much-needed protection against environmental aggressors and pollution.
While most serums can leave your hair feeling greasy, our deeply nourishing hair shine serum is lightweight in nature. Crafted with a carefully selected blend of Moroccan heritage ingredients like Argan oil, Hibiscus oil, and plant-derived Olive Squalane, this serum is a powerhouse of natural goodness and suitable for all hair types. These ingredients continue to stand the test of time and is not only backed by the wisdom of Moroccans but also with thorough scientific research.
The serum is rich in antioxidants and actively works to shield your strands from split ends, tame unruly frizz, and restore shine to lackluster hair. However, to truly unlock the full potential of this serum, it's crucial to understand its proper usage and application.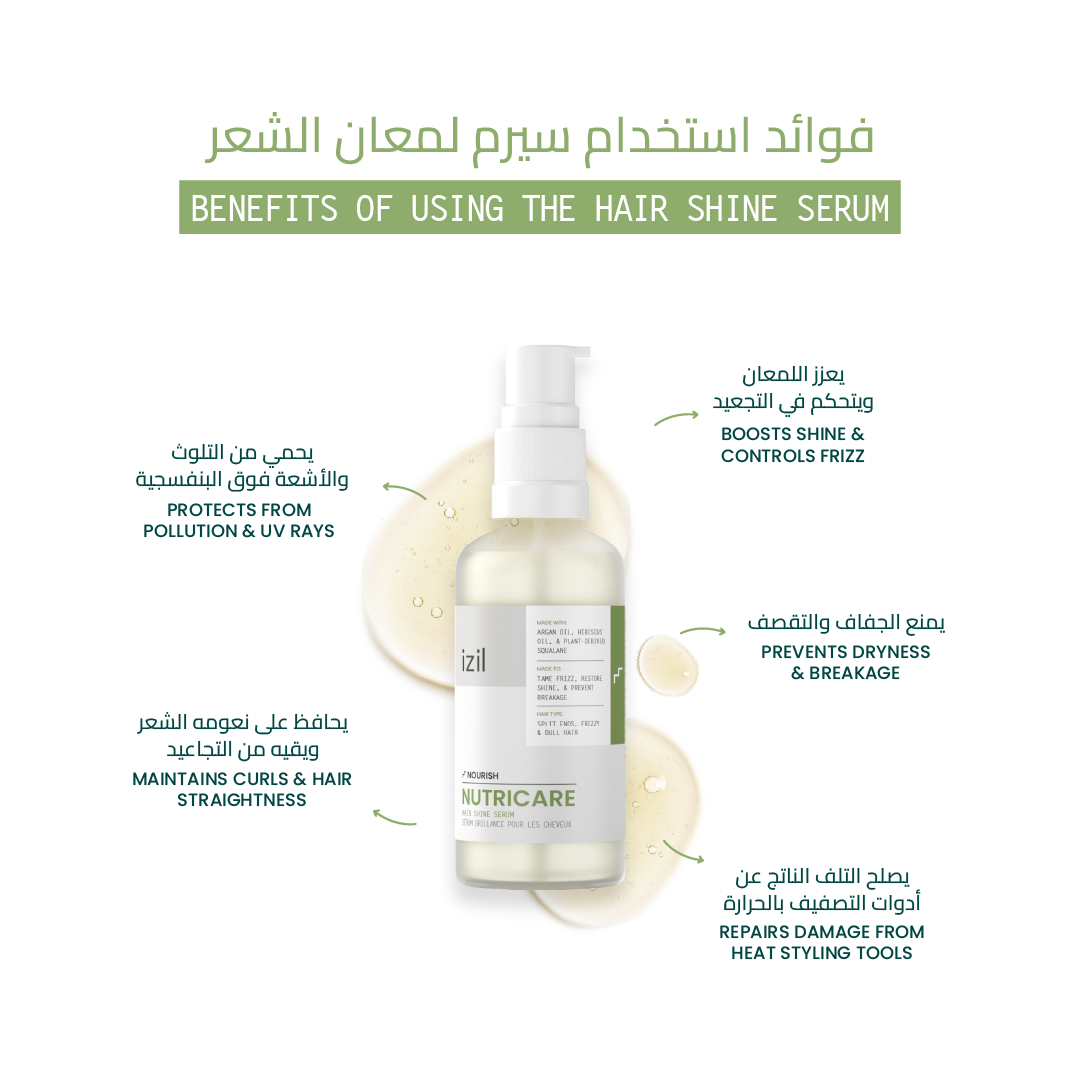 Izil's Hair Shine Serum Do's And Don'ts
Do's - How To Use Hair Serum On Hair
Start with freshly washed and conditioned hair. Hair can be towel dried and slightly damp before application.
Want to know how to apply hair serum? - Use one pump to start with, massage in your palms, and then apply from the back of the head working forward towards the face from mid-strands through the ends, especially on parts where the hair seems dehydrated.
Use your fingers to detangle and a comb to evenly distribute the product further.
Know when to apply hair serum? - Treat it like a pre-styling treatment or a finishing product when styling dry hair. It is perfect for wash days, on-the-go touch-ups, and post-heat-styled hair.
Don'ts - How To Avoid A Greasy Scalp
Apply serum to your scalp as it can make your hair look oily and greasy and create product build-up.
Use too much serum, a pump or two is enough to apply to your hair.
Use it on dirty hair or reapply it when the hair looks dull.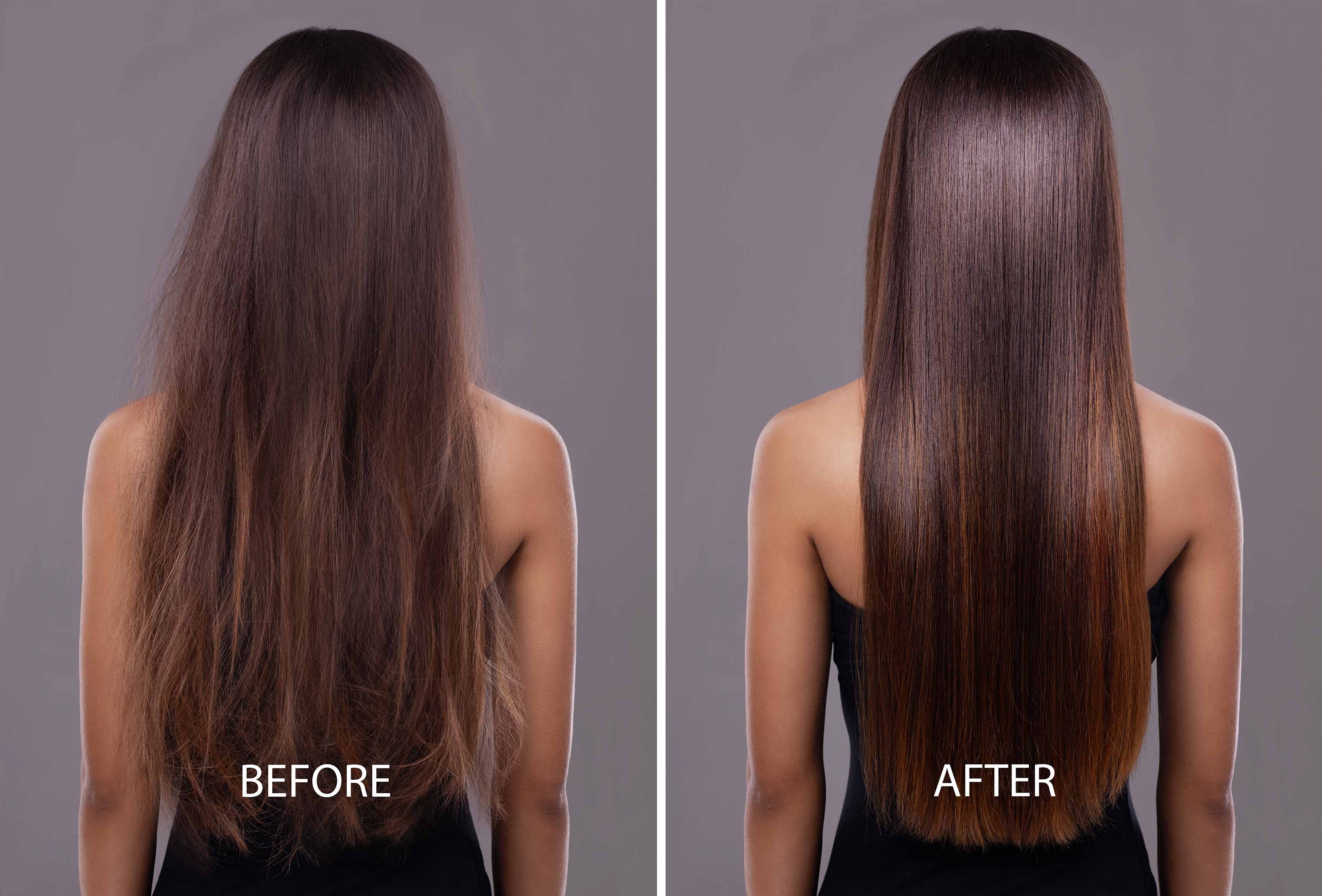 Keep These In Mind When Using The Hair Shine Serum:
While shampoos are good for cleansing the hair and scalp they do expose the hair cuticle along the way. Your hair conditioner alone is not effective enough to close this cuticle back up, hence a hair serum is an added protective layer and a must if you are trying to build a sustainable hair care routine for yourself. Especially if you're the kind of person who cannot do away with heat styling tools.
For optimal results, incorporate the hair shine serum into your hair care routine on wash days. However, if you're facing a hair crisis with extreme unmanageability and persistent frizz, don't hesitate to use the serum daily until your hair recovers to your desired level of perfection.
So, are you ready to unlock the secret to shiny, frizz-free, and fragrant hair with our Hair Shine Serum?