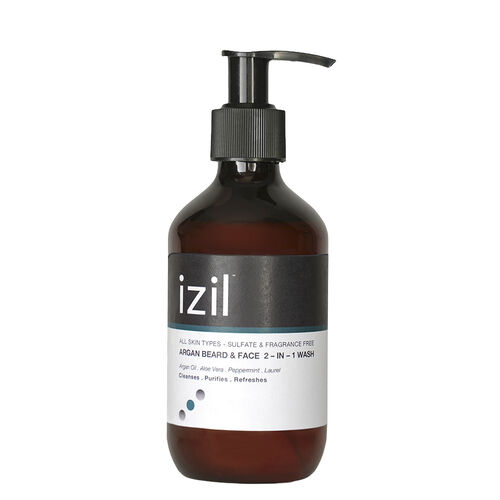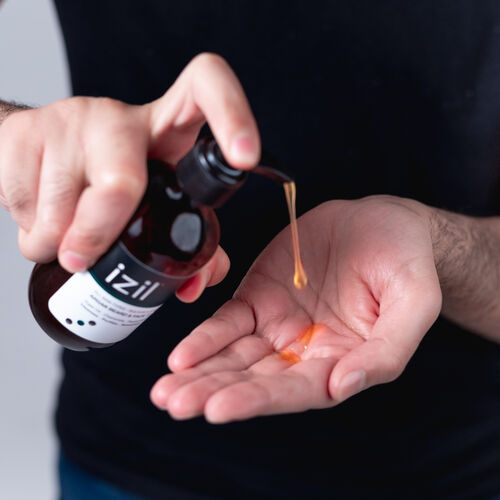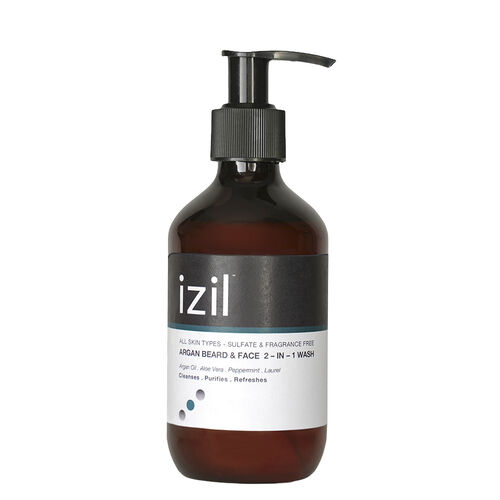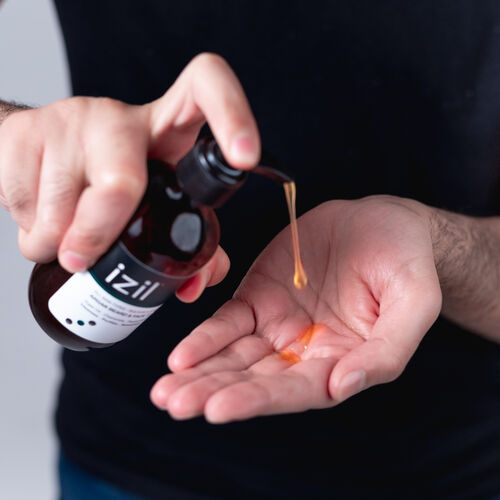 Argan Beard And Face 2 In 1 Wash
Cleanses & Balances
What we believe the most
What it is: Face the world with ultimate confidence. Our amazing Argan Beard And Face 2 In 1 Wash cleanses, purifies, and refreshes like nothing else can.
How it works: Change the way the world sees you as you look at it with confidence that comes to you naturally. Our Argan Beard And Face 2 In 1 Wash has been specially formulated with special natural ingredients to give you a thorough cleanse and a deep moisturization. It harnesses laurel's antiseptic, antibacterial and anti-fungal properties, argan's moisturizing and healing benefits, peppermint's soothing action, and chamomile's antioxidants that help reduce signs of ageing. This is a non-greasy formula, so it gives you a clean and refreshing feeling instantly.
Who it's for: This product has been designed for all skin & beard types.
Good to know: This product is 99% natural. It is 100% free of GMO, animal cruelty, alcohol, artificial colours, and synthetic ingredients.
the benefits are :
Cleanse Skin & Beard

Increase Hair Shine

Strengthen Hair Follicles
Our Argan Beard And Face 2 In 1 Wash is
Cruelty Free

Moroccan Recipes

Natural Ingredients

Organic Farming

Vegan
Ingredients

100% Pure Argan Oil
Argan oil rich in Vit. E, fatty acids and antioxidants, renowned for its exceptional skincare benefits, is commonly referred to as ""liquid gold"" due to its remarkable ability to nourish and condition the skin effectively.

Chamomile
Chamomile's anti-inflammatory, antibacterial, and antioxidant properties soothe and hydrate the skin, treat skin conditions, reduce redness, and promote relaxation.

Laurel
Laurel is a nutrient-rich herb with antibacterial, antifungal, anti-inflammatory, and antioxidant properties that helps to soothe acne irritated skin, promote healing and calm redness.

Peppermint
Peppermint oil has natural antibacterial, anti-inflammatory, and astringent properties that can help to cleanse, soothe, and balance the skin and scalp microbiome. It may also provide a cooling sensation and improve circulation for a brighter, more radiant complexion.

Aqua, Propanediol*, Coco-Glucoside*, Cocamidopropyl Betaine*, Citric Acid*, Sachharide Isomerate*, Xanthan Gum*, Natural Perfume*, Argania Spinosa [Argan*] Seed Oil, Mentha Piperita [Peppermint*] Ess. Oil, Laurus nobilis [Laurel*] Ess. Oil, Chamomilla Recutita [Chamomile*] Flower Extract, Hamamelis Virginiana [Witch Hazel*] Extract, Vitis Vinifera [Grape*] Seed Extract, Raphanus Sativus [Radish*] Root Extract, Pullulan*, Lecithin*, Caprylyl/Capryl Glucoside*, Sodium Citrate*, Glycerin*, Sodium Cocoyl Glutamate*, Sodium Phytate*, Glyceryl Caprylate*, Polyglyceryl-6 Oleate*, Sclerotium Gum*, Sodium Surfactin*, Benzyl Alcohol, Dehydroacetic Acid, Citral*, Geraniol*, Linalool*, Citronellol*, Limonene*.
How to Use
Wet your face with water.
Mix 2 or 3 drops with water in your palm.
Then gently massage the face & beard.
Rinse thoroughly & pat dry your face.
Finally, comb your beard while it is damp.
And apply izil beard oil.
Products related to this item